NSS Week Celebration Feedback
Ganpati Visarjan Project – Ananth Chaturdashi
Ganpati Visarjan Project – Ananth Chaturdashi on Thursday, 12th September, 2019
| | |
| --- | --- |
| Name of Event | Ganpati Visarjan Project |
| Date & Time of Program | 12th September, 2019 from 4 p.m. to 9 p.m. |
| Venue | Teen Talav, Chembur Mumbai |
| No. of Participants | 30 NSS Volunteers |
| Objective | The Ganpati Visarjan project aimed at assisting the Chembur Police in traffic management during the crowded Ananth Chaturdashi festival day. The students got an opportunity to participate in crowd management and diverting traffic thereby assisting not only the Ganpathi bhakts but also the residents of living in and around the Teen Talav. |
| Brief Report of Program | The NSS volunteers assembled in the college premises at 4.00 p.m. and took attendance. Then they walked out in a line towards the visarjan are in Teen Talav. This is located behind the college. The NSS Leader positioned NSS volunteers in strategic positions across the road and near the talav to help direct traffic in an orderly manner. They worked in tandem with the Chembur police and served the community in a effective manner. |
| No of Beneficiary | 30 NSS Volunteers who learned the importance of serving community. The numerous ganpati bhakts who came in for visarjan and all the residents around Teen Talav Chembur, Mumbai |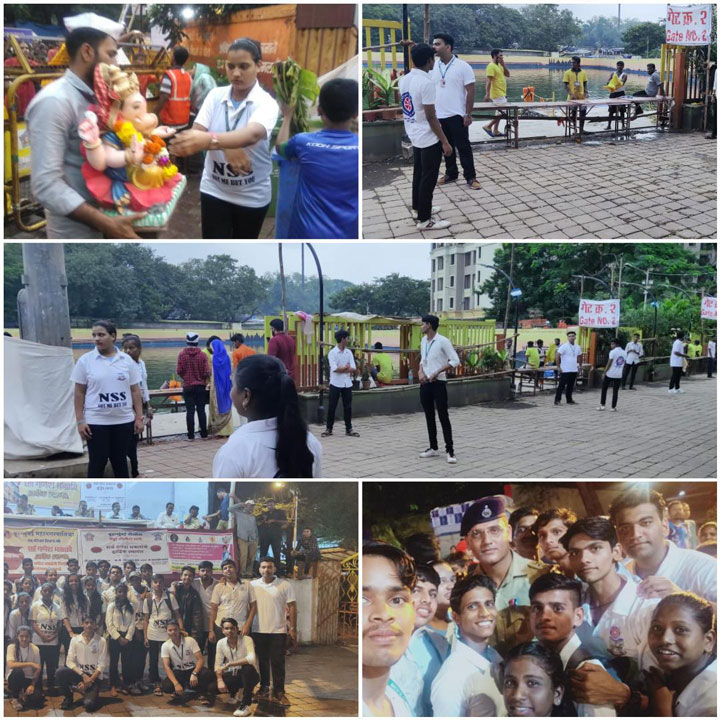 Disaster Management Workshop
Disaster Management Workshop on 17th September, 2019
| | |
| --- | --- |
| Name of Event | Disaster Management Workshop |
| Date & Time of Program | 17th September, 2019 from 4.00 p.m. to 6.00 p.m. |
| Venue | Room No. 404 and Ground Floor Hall in College Campus |
| No. of Participants | 140 NSS volunteers and 100 non-volunteers |
| Name of Resource Person | Asst. Prof. Ms. Vani Achari of Pillai College of Education and Research, Chembur |
| Objective | The objective of the workshop was to orient students about the types of disasters and the readiness to face them. They were shown techniques to fight disasters. |
| Brief Report of Program | Resource Person Asst. Prof. Ms. Vani Achari made a power point presentation giving vivid explanation of various types of disasters. She gave help line numbers and addresses for students to contact incase they need help. She showed videos to explain how to fight disasters. Common sense and presence of mind is necessary to fight disasters. The session was interactive and interesting. |
| No. of Beneficiary | 240 students of Mahatma Night Degree College of Arts and Commerce, Chembur |
Blood Donation Rally
Blood Donation Rally
| | |
| --- | --- |
| Name of Event | Blood Donation Rally |
| Date & Time of Program | 23rd September, 2019 from 4 p.m. to 6 p.m. |
| Venue | Siddharth Colony |
| No. of Participants | 50 NSS Volunteers |
| Objective | The blood donation awareness rally aimed at creating awareness among the residents of Siddharth colony about need and importance of blood donation. |
| Brief Report of Program | The NSS program officer Asst. Prof. Harsh Shukla along with 50 NSS Volunteers started blood donation awareness rally at Siddharth colony by 4 p.m. Students distributed the pamphlet of blood donation camp on 24th September, 2019 at college premised. They shouted the slogans of "Rakt Dan he Shreshth Dan Hai" and performed a street play showing the importance of blood donation. |
| No. of Beneficiary | 50 NSS Volunteers & Residence of Siddharth colony |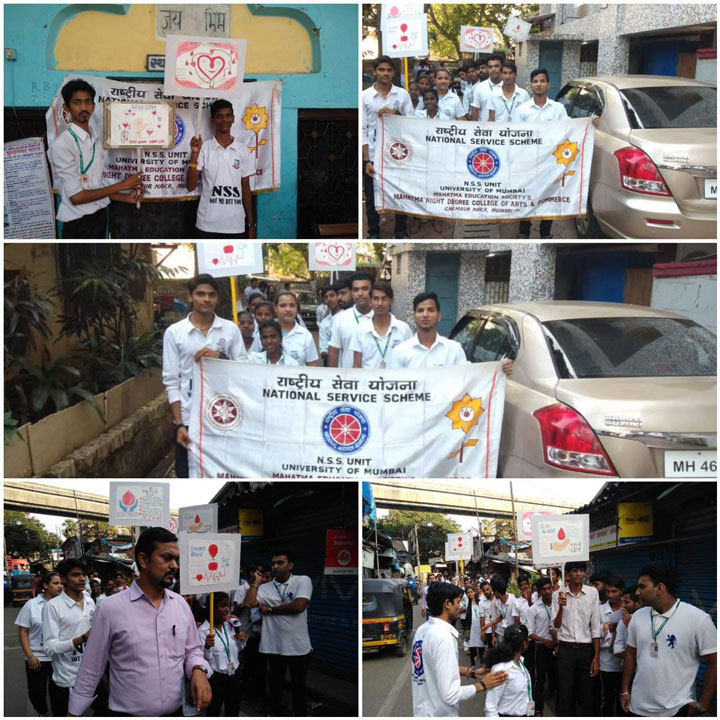 Blood Donation Camp
Blood Donation Camp
| | |
| --- | --- |
| Name of Event | Blood Donation Camp |
| Date & Time of Program | 24th September, 2019 from 3 p.m. to 9 p.m. |
| Venue | College Campus |
| No. of Participants | 120 NSS Volunteers plus blood donors |
| Name of Blood Bank | J.J. Mahanagar Blood |
| Objective | The blood donation camp aimed at collecting blood from the NSS volunteers and the residents of Siddharth colony & donate it to the needy patient of J.J. Hospital. |
| Brief Report of Program | The blood donation camp was organised in association with J.J. Mahanagar Blood Bank. The blood donation camp started at 3 p.m. under the supervision of expert doctors from the blood bank team. All NSS Volunteers who were above 18 years of age and 50kg of weight donated the blood. Few resident of Siddharth colony also came for the blood donation. 55 units of blood collected in the blood donation camp. |
| No. of Beneficiary | All NSS Volunteers and J.J. Mahanagar Blood Bank |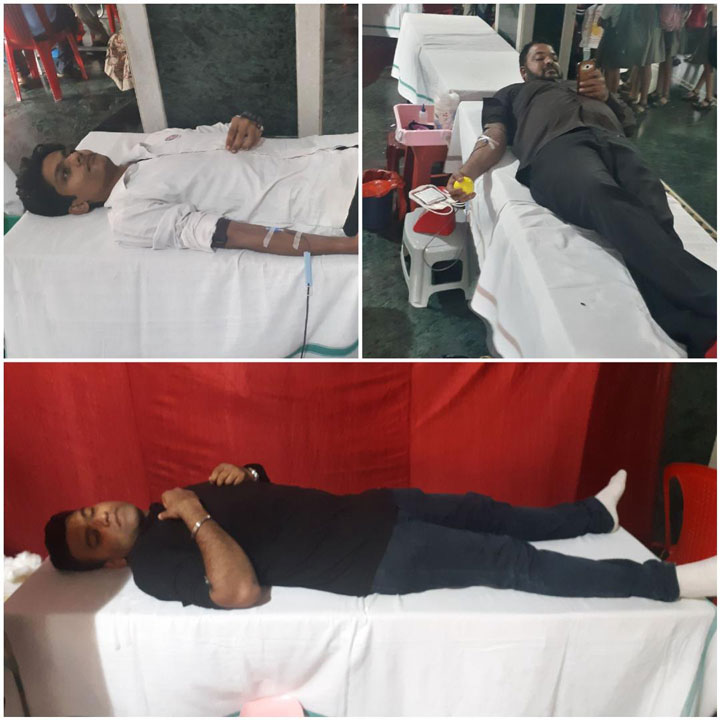 Poster Making Competition
Poster Making Competition
| | |
| --- | --- |
| Name of Event | Poster Making Competition |
| Date & Time of Program | 25th September, 2019 from 4 p.m. to 6 p.m. |
| Venue | Room No. 404 , College Campus |
| No. of Participants | 50 NSS Volunteers |
| Theme | Save Environment, Save Electricity & Water |
| Objective | The poster making competition aimed at creating awareness among NSS Volunteers about Environment conservation and optimum use of electricity and water resources. |
| Brief Report of Program | The poster making competition was held at Room Number 404 from 4 p.m. onwards. The drawing papers were provided by the College and NSS Volunteers brought their own colours. All of them drew pictures on the given theme in order to create awareness among all the college students about the issue. Later, their posters were displayed on the ground floor for college students. |
| No. of Beneficiary | 50 NSS Volunteers plus other college students |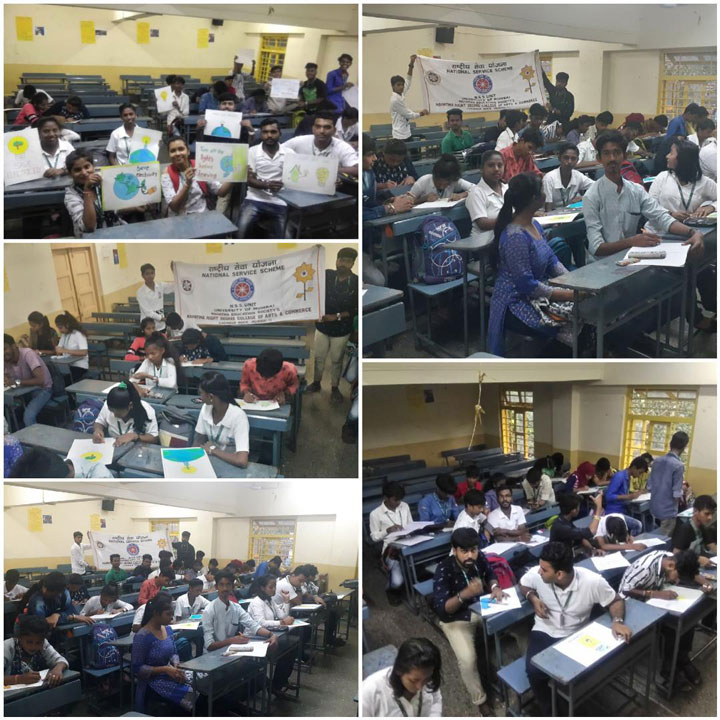 Save Electricity & Save Water Campaign
Save Electricity & Save Water Campaign
| | |
| --- | --- |
| Name of Event | Save Electricity & Save Water Campaign |
| Date & Time of Program | 26th September, 2019 from 6 p.m. to 8 p.m. |
| Venue | College Campus |
| No. of Participants | 20 NSS Volunteers |
| Theme | Save Electricity & Water |
| Objective | The objective of the program was to create awareness about efficient use of electricity at home and college. Further, information about Jal Shakti Abhiyan was given to students. |
| Brief Report of Program | 20 NSS volunteers pasted the pamphlet of Save Electricity at every college room near electric switches. In addition to this save water pamphlet was pasted near water coolers. NSS volunteers appealed all other volunteers to save electricity and water as they are scare resources. Further, students were given the information about Jal Shakti Abhiyan promoted by our Hon'ble Prime Minister Shree Narendra Modi Ji. |
| No. of Beneficiary | 20 NSS Volunteers plus other college students |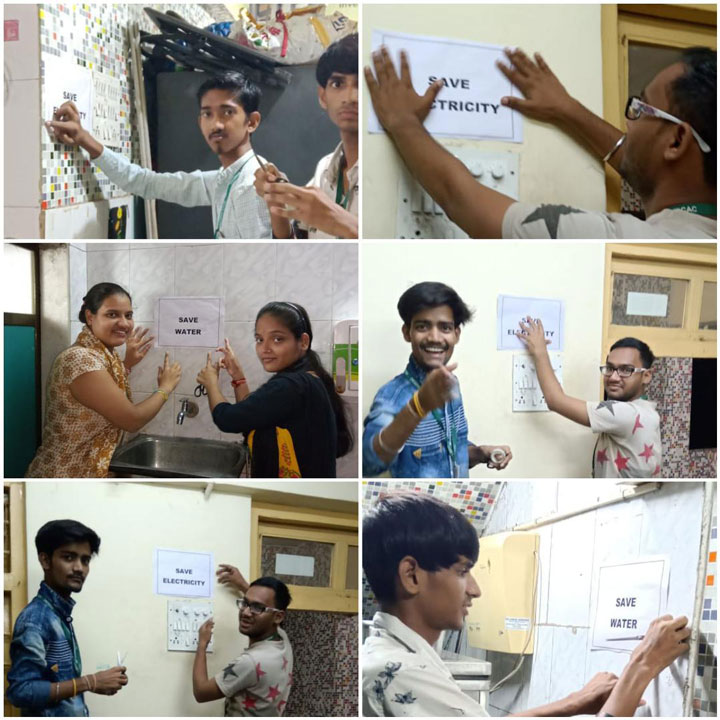 Poshan Abhiyan Awareness Drive
Poshan Abhiyan Awareness Drive
| | |
| --- | --- |
| Name of Event | Poshan Abhiyan Awareness Drive |
| Date & Time of Program | 27th September, 2019 from 6 p.m. to 8 p.m. |
| Venue | College Campus |
| No. of Participants | 20 NSS Volunteers |
| Theme | Poshan Abhiyan |
| Objective | The objective of the program was to promote Poshan Abhiyan started by the Government of India. |
| Brief Report of Program | The Government of India started Poshan Abhiyan to promote nutritious food in the diet of an individuals. NSS Volunteers were given information about Poshan Abhiyan and the study material of the program was shared with them. They were instructed to spread the awareness among others about Poshan Abhiyan. |
| No. of Beneficiary | 20 NSS Volunteers plus other college students |
Setting up a Library for adopted area
Setting up a Library for adopted area
Name of Event
Library setup for students of Varavna Ashram Shala, Pen
Date & Time of Program
28th September, 2019 from 7.00 a.m. to 4.00 p.m.
Venue
Varavane Ashram Shala, Pen
Shasakiya Ashram Shala, Pen
No of Participants
140 NSS volunteer, 2 programme officers and one NSS committee member, Principal Mr. Bhaskar Thube Sir, Principal of Mahatma Jr. College of Education, Chembur
Theme
Promote Reading habit among school children
Objective
Provide reading material for students of a tribal school in Varavane by setting up a library in the school.
Brief Report of Program
140 NSS volunteers donated their own books, (Hindi and Marathi books) that were in good conditions. Over 70 books were collected and taken to the Varavane Ashram Shala. The books were donated to the students and Principal of the school by a NSS volunteer Prathmesh Pawar of S.Y.B.Com. in the presence of Programme Officers Asst. Prof. Harsh Shukala, Assoc. Prof. Dr. Lata Krishnana and Principal Mr. Bhaskar Thube
No. of Beneficiary
400 students of Varavane Ashram Shala and 140 NSS volunteers of the college.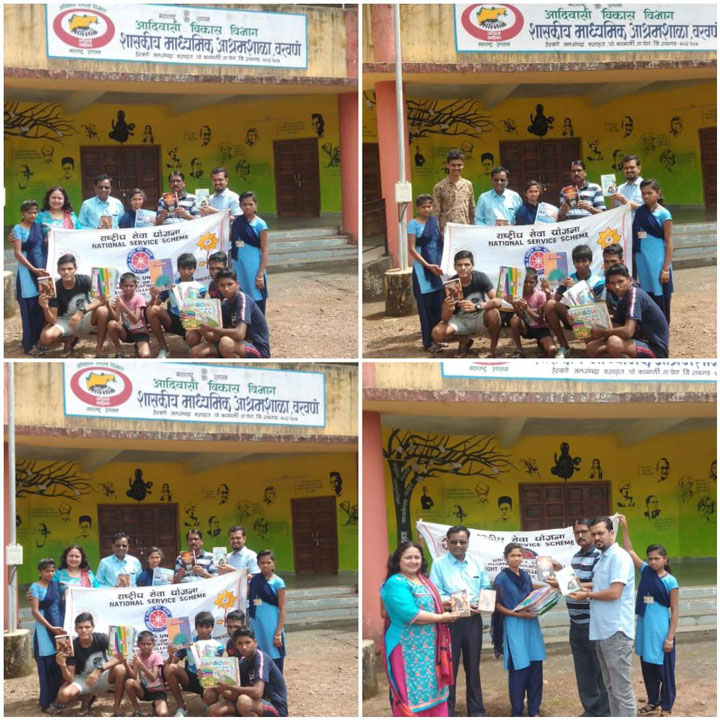 Peace March Rally and Cleanliness Drive
Peace March Rally and Cleanliness Drive
Name of Event
Peace March Rally at Gurukul College of Commerce & Cleanliness Drive at Kalina Campus
Date & Time of Program
2nd October, 2019 from 7 a.m. to 10 a.m.
Venue
Gurukul College of Commerce, Ghatkopar &
Kalina Campus University of Mumbai
No. of Participants
13 NSS Volunteers
Objective
The objective of the program was to celebrate 150 birth anniversary of Mahatma Gandhi.
Brief Report of Program
In order to celebrate 150 birth anniversary of Mahatma Gandhi University of Mumbai organised cleanliness drive at Kalina Campus. NSS Unit of Mahatma Night Degree College sent 3 volunteers to take part in the event. Further, on the same day peace rally was organised by Gurukul College of Commerce. 10 NSS Volunteers along with NSS PO Asst. Prof. Harsh Shukla participated in the peace rally. The rally started at 8 a.m. and covered 2 km area of Ghatkopar. There were 100 NSS volunteers from different colleges in the rally. Students were singing the Bhajan of Raghupati Raghav Raja Ram during the rally. The rally was over at 9.30 p.m.
No. of Beneficiary
100 NSS Volunteers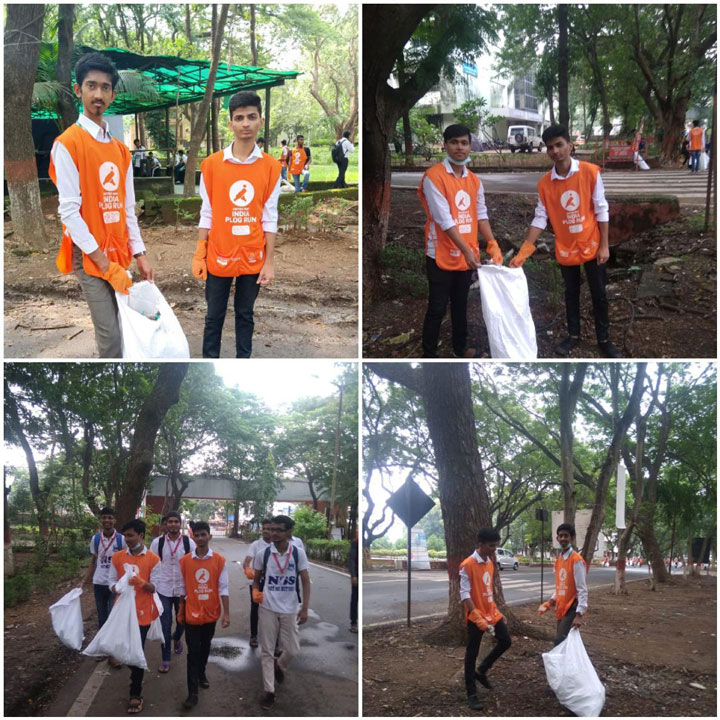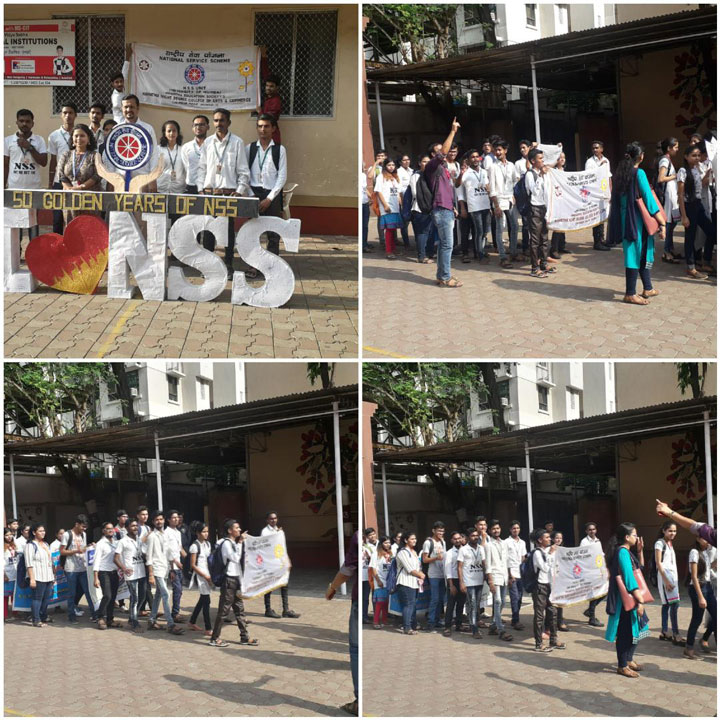 Bhajan Sandhya
Bhajan Sandhya
Name of Event
Bhajan Sandhya 2019
Date & Time of Program
2nd October, 2019 from 2.00 p.m. to 9.00 p.m.
Venue
The Gate Way of India
No. of Participants
26 NSS Volunteers
Theme
Celebrating Gandhi Jayanti - 150 years
Objective
The objective of Bhajan Sandhya was to bring together NSS volunteers across the length and breadth of Mumbai to celebrate the 150th Gandhi Jayanti. The aim was to recall the Gandhian principles and see their relevance in today's world.
Brief Report of Program
This was an area level project that brought all colleges together. A stage was setup at the backdrop of the Gate Way of India. Popular and talented singers from the Marathi film Industry, small screen and Mumbai University Music Department performed on stage. They sang popular bhajans, patriotic songs, religious songs and kept the students spell bound.
The Mumbai University VC Prof. Suhas Pednekar addressed the gathering and lead the students in taking the Swachata shappat on Gandhi Jayanti Day.
No. of Beneficiary
26 NSS Volunteers of the college
StreeMukti Sanghatan Street Play
StreeMukti Sanghatan Street Play – Ata Tari Jage Vhah
NSS Unit of Mahatma Night Degree College of Arts and Commerce organized a street play in association with StreeMukti Sanghatan on 13th August, 2019 on the occasion of Swachh Bharat Pakhwada. The Theme of the program was Ata Tari Jage Vhah meaning please wake up now. The theme was related to increasing pollution level in the city because of waste management problems. The street play was started at 8:15 p.m. having all the volunteers of F.Y and S.Y as audience. The performers of the street play explained that how increasing plastic waste is hazardous for our society. There has to be a civic consciousness about the issue. The street play was well applauded by all the NSS volunteers. Subsequently there was a street play performance by NSS Volunteers of our college. The theme of the street play was also solid waste management. The StreeMukti Sanghatan members were very impressed after watching the street play performance of Night Degree College. Thereafter a formal vote of thanks was proposed by Asst. Prof. Harsh Shukla. At the end everyone rose for the national anthem and after that students were instructed to disperse for the evening.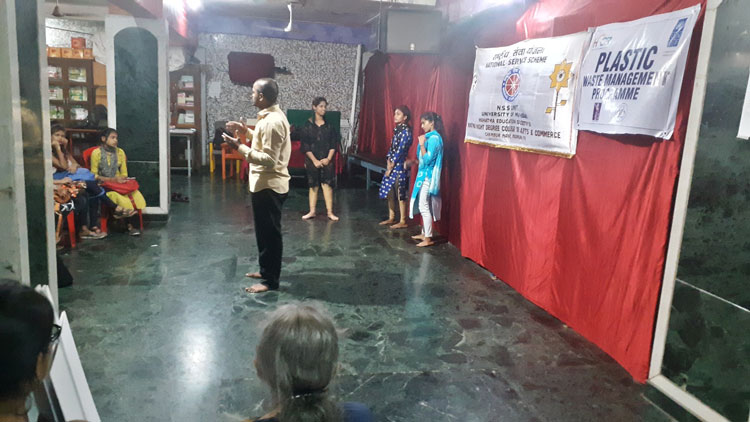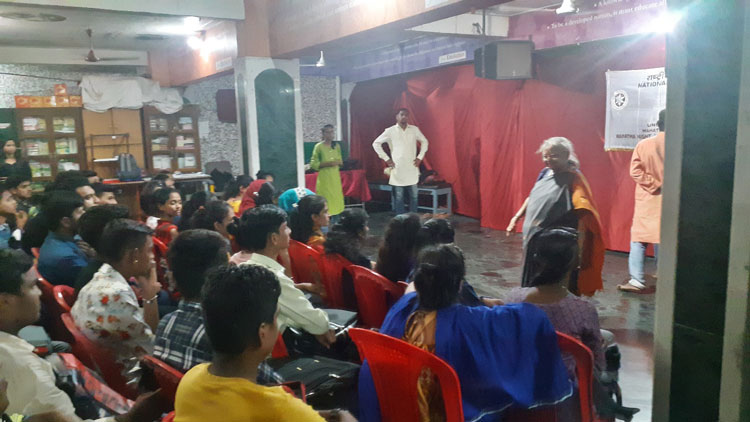 NSS Meeting at MDACS
NSS Programme Officers Meeting at Mumbai Districts Aids Control Society MDACS, Wadala
A meeting of all the NSS Programme Officers of the colleges in the Mumbai Central Suburban region was organized at the MDACS Mumbai Districts Aids Control Society, Wadala, Mumbai on 25th July, 2019. The aim of the meeting was to sensitize the Programme Officers regarding the growing incidences of AIDS in the city of Mumbai. The objective was to encourage NSS units to set up RRC Red Ribbon Club to educate college students and spread awareness regarding AIDS.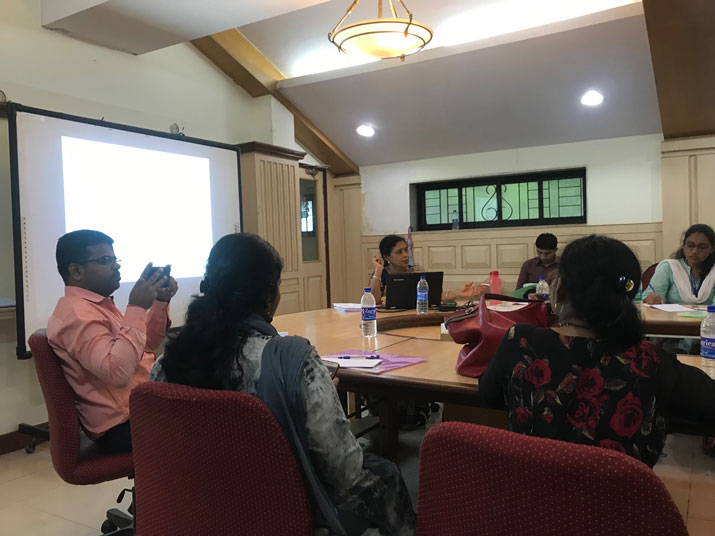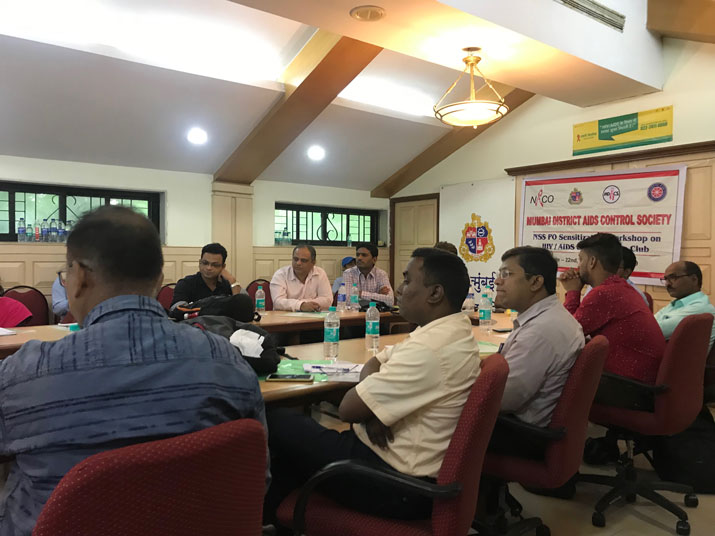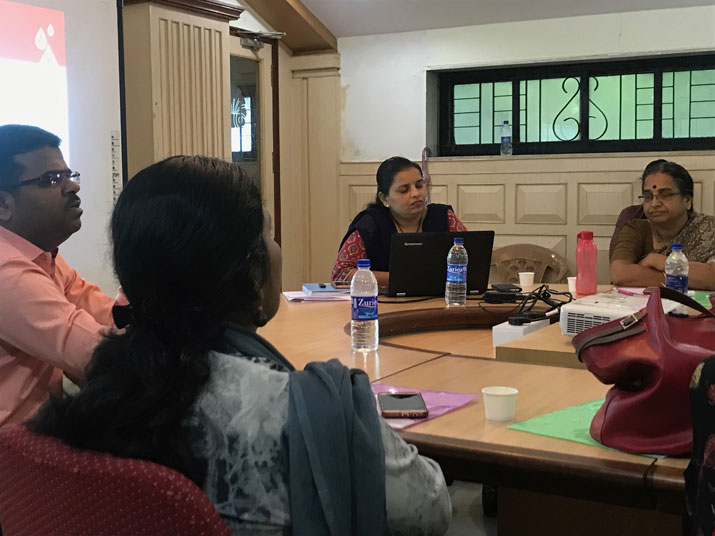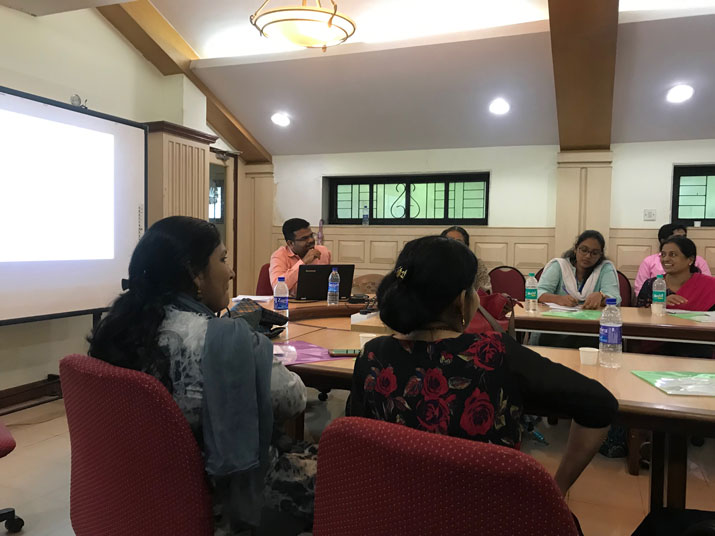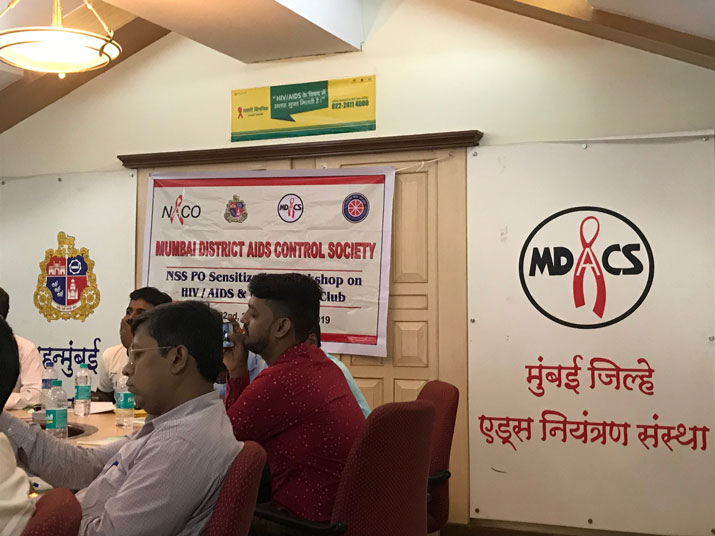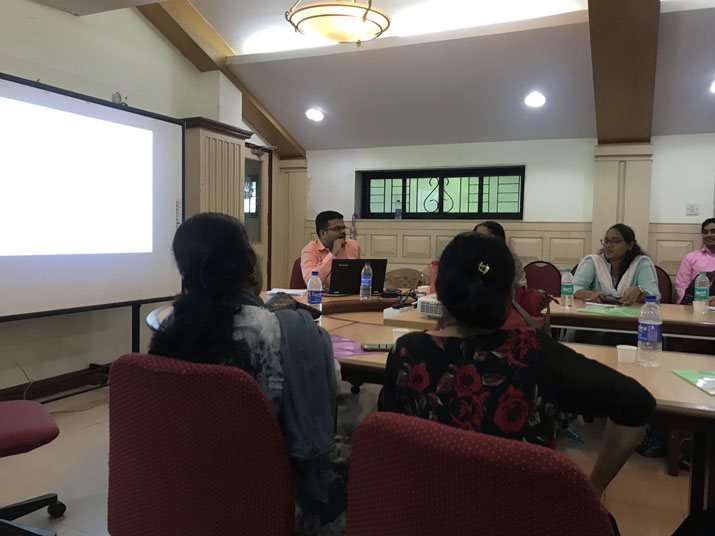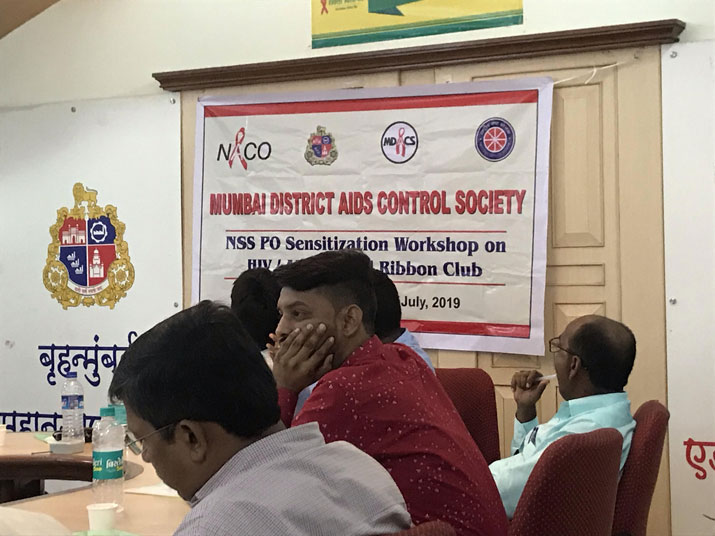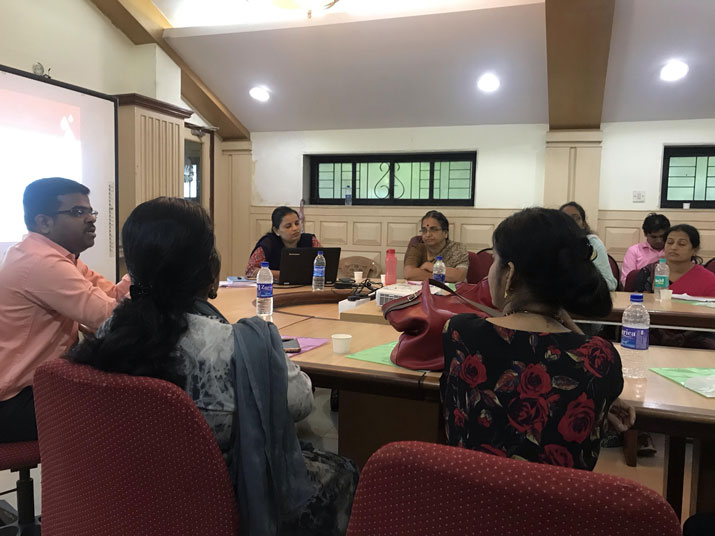 The programme started at 2.00 p.m. and was coordinated by Mr. Umesh Ghuge, Assistant Director MDACS, Wadala. The first speaker was Dr. Latika Shivkar. She conducted the technical session giving the NSS POs complete information about AIDS, AIDS Awareness, preventions and post infection care. She explained at length the stigma attached with the disease and measures taken to educate society and create awareness. Details of her talk are attached with this report.
The second session was presented by Dr. Aparna S. Pawar. Dr. Pawar spoke on the topic Blood Donation. She began her session by inviting a discussion on the problems faced by colleges organizing Blood Donation Camps. She gave information about Blood Banks particularly the BMC managed blood banks and Government owned Blood Banks. She requested the Programme Officers to ensure that the Blood Bank they select to invite for blood donation camps in college should have the facility of a "Component Separation Unit". She recommended Nair Hospital Blood Bank, KEM Blood Bank, Bombay Hospital Blood Bank, Sion Hospital Blood Bank as they all have a Component Separation Unit. Dr. Pawar spoke to us about the e-raktakosh, the online blood bank. She encouraged healthy people to donate blood once every three months. Platelets can be donated twice in a month. MDACS has their own mobile blood Donation van which moves around in crowded areas of the city to collect blood from donors. The Programme Officers spoke at length about the certificate issued to blood donors. These certificated do not help donors to get their first free unit of blood. After brain storming, the Programme Officers suggested that a 'SMART CARD' be devised and given to donors to update their donation of blood from time to time. This digital card should contain complete history of the blood donor. It could be used by the donor to procure his free unit of blood when he needs it.
The third and final session was conducted by Mr. Umesh Ghuge, Assistant Director MDACS, Wadala. He spoke to us about formulating a Red Ribbon Club. Every college with one NSS Unit to send two NSS volunteer, two units to send three NSS volunteers and three units to send 4 NSS volunteers on 30th July, 2019 for a training programme. The training programme will be organized by MDACS in their Wadala office. It will be a full day programme enabling the students to lead the RRC in their colleges. The trained NSS volunteers are required to share their knowledge with the students in their college. A minimum of 600 students have to be addressed. Mr. Umesh Ghuge made a power point presentation of all the activities that the RRC had to engage in for 40 hours. Rupees 4,000/- will be provided by MDACS to every college setting up a RRC. Rupees 2,000 will be paid in advance and Rupees 2,000 will be provided after completing the project. Detailed expenditure statements and bills will have to be submitted to MDACS for the RCC programme.
The meeting ended at 6.00 p.m. and the NSS POs dispersed.
Dr. Latika Shivkar's Talk
Dr. Latika Shivkar's Talk in NSS Meeting at MDACS
NSS Orientation Program
NSS Orientation Program 2019-20
NSS Unit of Mahatma Night Degree College organised NSS orientation program on 19th July, 2019. Prof. Royal D'Souza Ex- District Co-ordinator of NSS was invited as a Chief Guest of the Program. The program was held at the multi purpose hall ground floor. The program commenced at 7.30 p.m. NSS Program officer, Asst. Prof. Harsh Shukla gave the welcome address and brief introduction of the Chief Guest. Principal Dr. Padma Rangan welcomed the Prof. Royal D'Souza with floral tribute. Subsequently, Principal Madam addressed the gathering and explained the importance of NSS in students life. Thereafter, Asst.Prof. Harsh Shukla invited the Chief Guest of the evening Prof. D'Souza to orient first year and second year NSS volunteers. Prof. D'Souza meticulously explained each and every aspect of NSS to the volunteers. He justified the hard work of NSS volunteers for their future prospects. Further, he spoke about giving back to the society by the motto of NSS "Not Me But You". Volunteers were very impressed by his views. The program concluded by the vote of thanks given by NSS PO Asst. Prof. Harsh Shukla. At the end, every body rose for national anthem and after the national anthem volunteers were asked to disperse for the evening.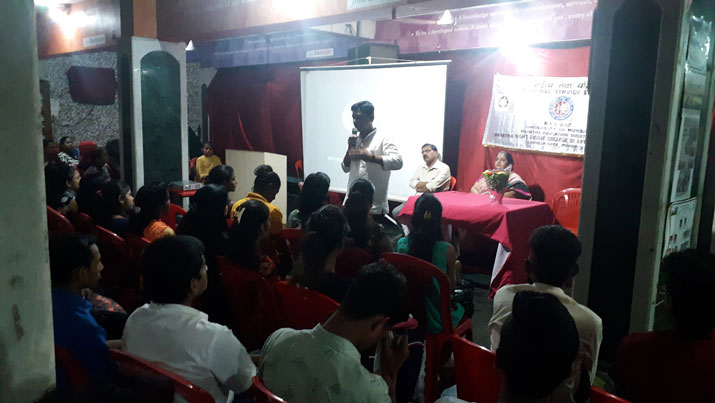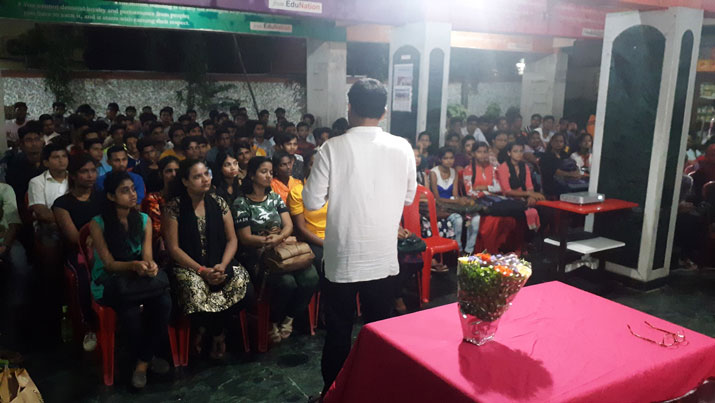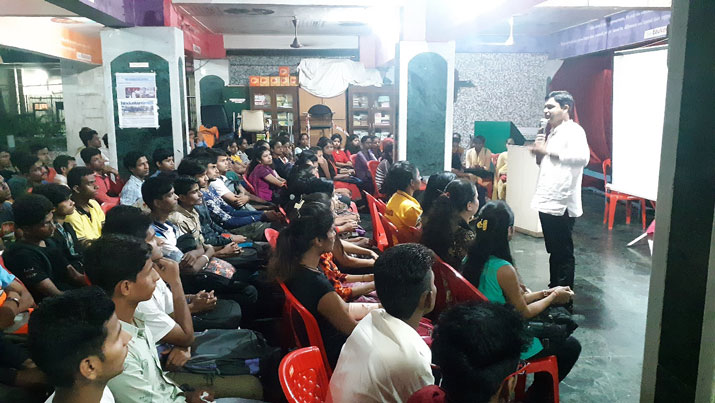 NSS Planning Session
NSS Planning Session Report
Place: Gurukul College of Commerce
Date: 11th July, 2019
Brief Report: NSS PO Asst. Prof. Harsh Shukla attended NSS Planning meeting on 11th July, 2019.
New NSS Coordinator of Mumbai University Mr. Sudhir Puranik from Pali College Raigad welcomed the gathering. He assured that functioning of NSS will streamlined. The important points discussed in the meeting are as follows
NSS Report should be very brief which includes name of the program, number of students and 2 photos
College should open new library in the adopted areas
There should be a program for Save Electricity and Save Water
Construct bandara (small check dam in monsoon)
2 Advisory Committee Meeting should be held in academic session
Jal Shakti Abhiyan should be promoted.
MDACS activity grant increased to 4000 rs.
NSS account must be submitter before 31st July.
College can have association with NGO which must benefit NSS students Not NGO
Plant must survive after tree plantation activity.
Tree Plantation
Tree Plantation 2019-20
NSS Unit of Mahatma Night Degree College conducted Tree Plantation Drive at Franav Farms, Apta Phata, Rasayani on 18th July, 2019. Lions Club of Deonar sponsored 25 saplings which included Neem, Jamun and other plant varieties. These samplings where brought from Juhu on 16th July. Further, Dr. Lata Krishnan requested Mr. Rajesh Pillai from Panvel campus to transport it to Franav Farms in Mahatma Education Society's School Bus which can reduce transport cost. Mr. Rajesh Pillai supported for the noble cause and helped us to transport the tree sappling to Franav Farms on 17th July, 2019. Mr. Padmakshan who look after the activities at Franav Farms supported us by ensuring all the equipment required for sapling plantation will be provided at the farm. NSS Program Officer Asst. Prof. Harsh Shukla along with 20 NSS Volunteers visited the Franav Farm at 1 p.m. on 18th July. The care taker of Franav Farms Upendra greeted us. NSS Volunteers drank water and after that Upendra gave the volunteers all the necessary equipment for sapling plantation. Mr. Upendra showed us the places earmarked for sapling plantation. NSS volunteers were happily engaged in the activity. They said that it gave them an immense satisfaction that they were planting tree saplings for the first time in their life. There was a tea break for 5 minutes at 3 p.m. The activity completed at 4.30 p.m. After freshen up we left the for Chembur at 5 p.m. Mr. Upendra promised us that he will take care of the saplings. This was one of the main objective of our NSS unit that we make sure that plant must survive after tree plantation activity and therefore the activity was conducted at Franav Farms.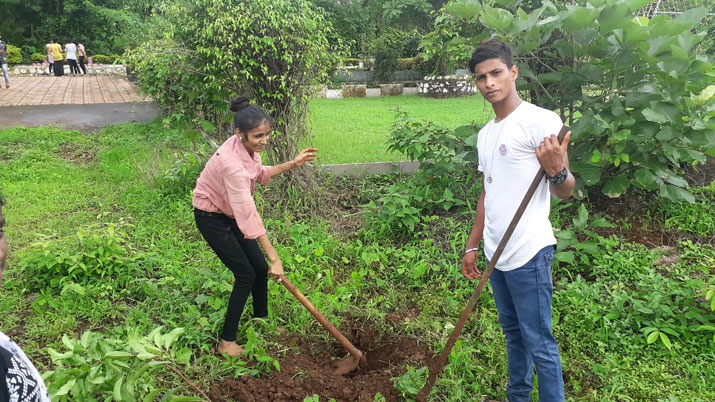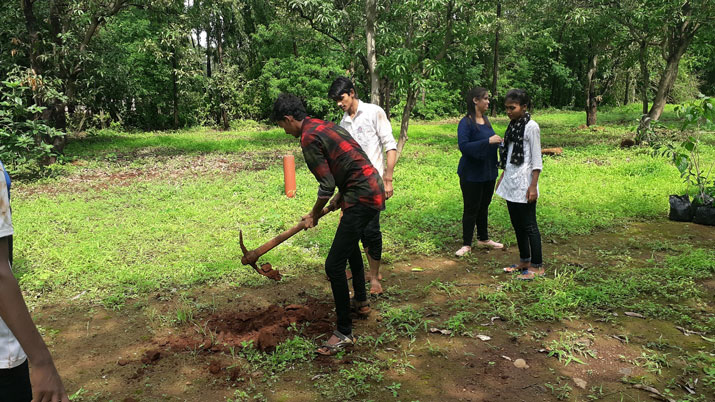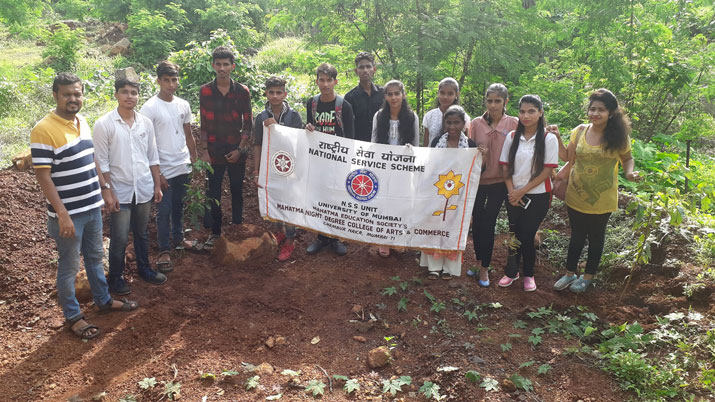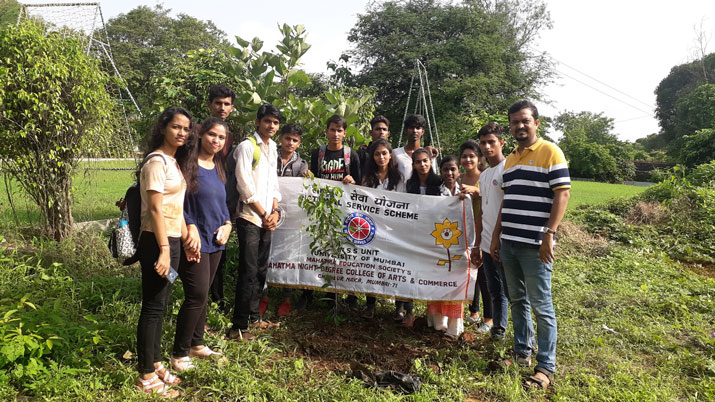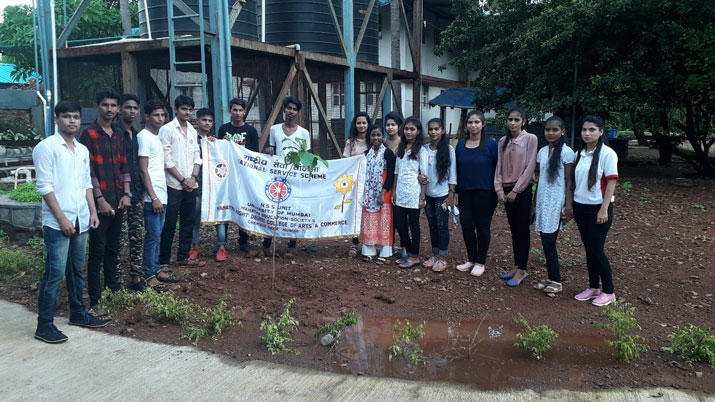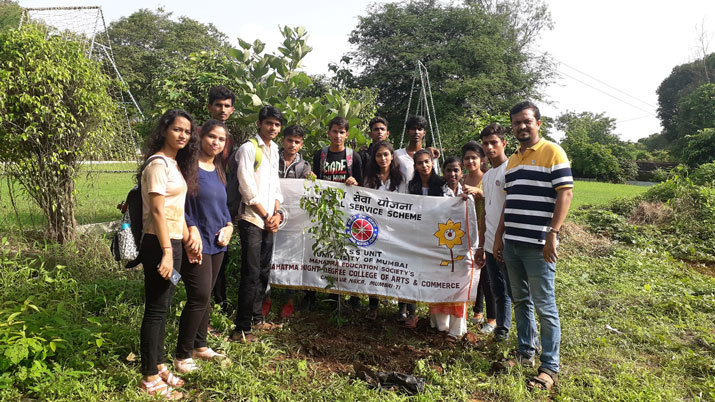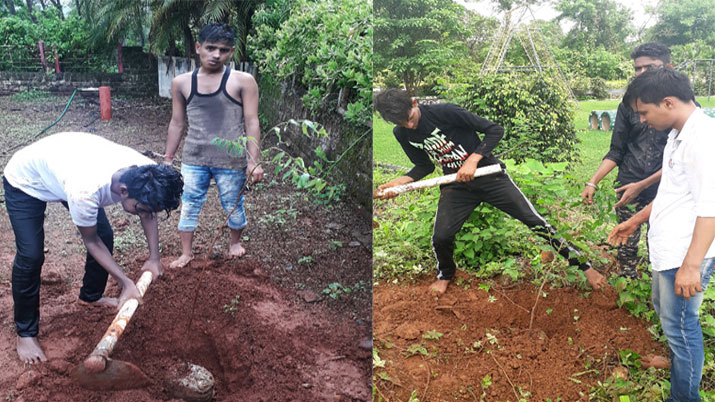 Talk on New Education Policy
A Talk on New Education Policy at University of Mumbai
NSS Program Officers of Mumbai Region were requested by NSS Cell of Mumbai University to attend a discussion on new education policy on 25th June, 2019. Therefore, NSS PO of Mahatma Night Degree College Asst. Prof. Harsh Shukla attended the program on new education policy. The program was held at green technology building at 2.30 p.m. The guest speaker of the program was Dr. M. K. Sridhar. The guest speaker was a member of drafting committee of new education policy. The important point discussed in a talk was as follows,
Government planned to merge B.Ed. colleges with Degree Colleges.
B.Ed. Course will be of four years.
There will be separate universities which specifically engaged in research and called Research Universities.
On similar line there will be universities engaged in teaching only.
Autonomous institution will be the third wheel of the education policy.
Student can enrol in different courses of different discipline at the same time.
The degree program will be converted in 4 years program.
Even if the students study for 2 years, he will get diploma degree thus the problem of drop out will be solved.
However, there was no clear idea in the policy about education of the poor students. The policy was seen by the audience as a commercial educational project of the government. There was no discussion on the safety and financial securities of the teachers. The teaching fraternity was against this policy as it was obvious during question answer session of the program. This program inflamed debate among the attendees of the program as it was hard to understand how students or teachers are going to be benefited from the program.