AIDS Awareness Drive
Date: 18th December, 2017
Venue: M and W Ward
Mumbai District Aids Control society conducts Red Ribbon Program in association with NSS unit of our college. The Red Ribbon Clubs spread awareness about HIV/AIDS among the youth through various competitions and blood donation camps.
As a part of World AIDS Day-2017, Mumbai District Aids Control Society, Wadala arranged street play program and requested the NSS units of various colleges to perform street play at 24 community sites for creating awareness and mobilize crowd for HIV testing camp. Along with the team of MDACS, our NSS unit conducted street play activity at Thakkar Bappa Garden, Chembur, Bail Bazar, Nehru Nagar, Chembur Station, Siddharth Colony. These places we identify to have street play because they are located in very crowded areas i.e. market where we get crowd from age group of 5 years to 70 years and above.
In street play volunteers conveyed the message about how people get infected with AIDS and how to take precautions. In their street play they mention don't neglect infected people and don't boycott them from society because they required moral support from the society and family and concluded their street play.
All audience and members of MDACS, Wadala appreciated our volunteers for their AIDS awareness street play.
National Youth Day Event-2018
Date: 16th January, 2018
Venue: MDACS Auditorium, Wadala
The National Youth Day is observed on January 12th every year to commemorate the birthday of Swami Vivekananda. National Youth Day became a mainstream celebration in India from 1985 onwards and observed on 12th January ever since. Swami Vivekananda was religious leader whose ideals and worked inspired the youth.
MDACS celebrated this National Youth Day and Valedictory function of World AIDS Day – 2017 on 16th January, 2018. The guests for a day were Honorable Vice Chancellor Dr. Devanand Shinde (University of Mumbai), Prof. B. S. Bidve (Coordinator – NSS Cell, University of Mumbai) and Dean of KEM hospital.
All the dignitaries addressed gathering about HIV/AIDS and guided youth to sensitized community about this disease.
MDACS felicitated our college and volunteers by giving memento and certificates as token of appreciation for creating awareness and mobilizing crowd for HIV testing camp through street play at various community sites.
Road Safety Leader Award
NSS unit of Mahatma Night Degree College of Arts and Commerce, in association with United Way Mumbai conducted training programme on road safety for NSS volunteers. Trainers emphasised on current generation riders and reasons for road accidents.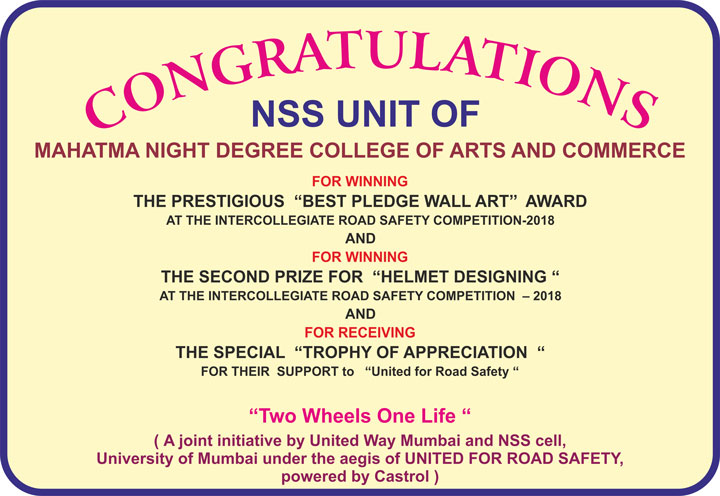 Volunteers were trained to make riders aware about safety riding. After the four hours of training UWM formed Safety club of our college and selected Mr. Tikamchand Fulwadiya president of club. Our safety club under took following activities to keep club active
Road Safety games in college
Awareness in class through posters
Awareness about traffic rules at Chembur Naka signal
Distribution of pamphlets regarding rules regulation of traffic and safety measure to riders at Chembur Naka and neighbouring areas
Distribution of hand-made flowers to 'without helmet riders' after awareness
Our 10 volunteers actively participated in the above mentioned activities. United Way Mumbai congratulated our volunteers for the awareness campaign for the promotion of Road Safety in Mumbai with certificates of "Road Safety Leader Award" and trophies.
Road Safety Awareness Chaos
Date: 15th January, 2018
Venue: Multi-purpose hall, Mahatma Night Degree College of Arts and Commerce
No. of volunteers participated: 70
Mahatma Night Degree College in association with United Way Mumbai NGO conducted a safe rider chaos which includes games for NSS and non NSS volunteerson 15th January, 2018. Total 70 NSS and non NSS volunteers participated in the program. The aim of the program was to create awareness among the young adults about the dos and don'ts while driving or travelling through games like snake and ladder, use of alcohol goggle and writing pledge wall. The pledge wall was inaugurated by Principal of the college Dr. Padma Rangan and talked about safety riding.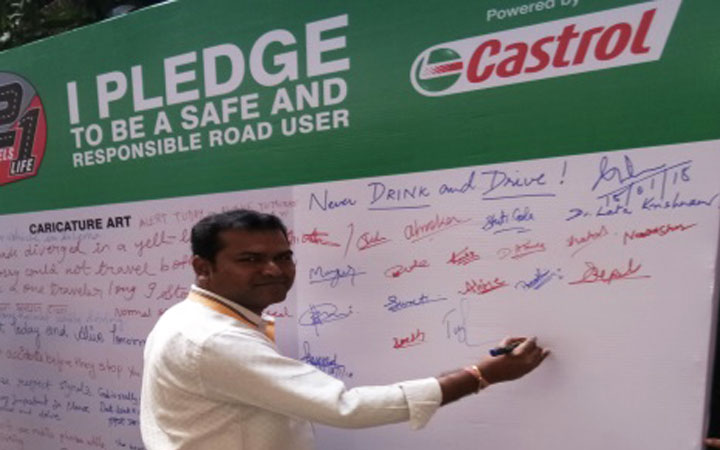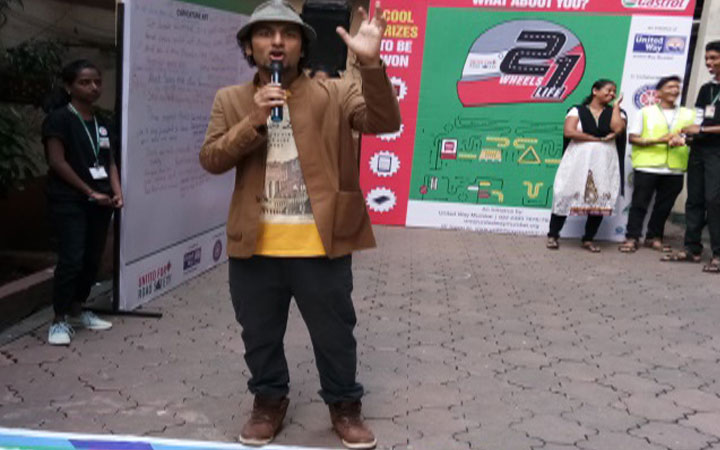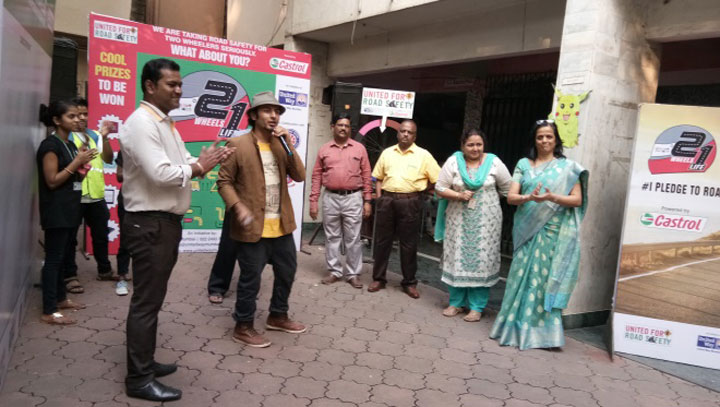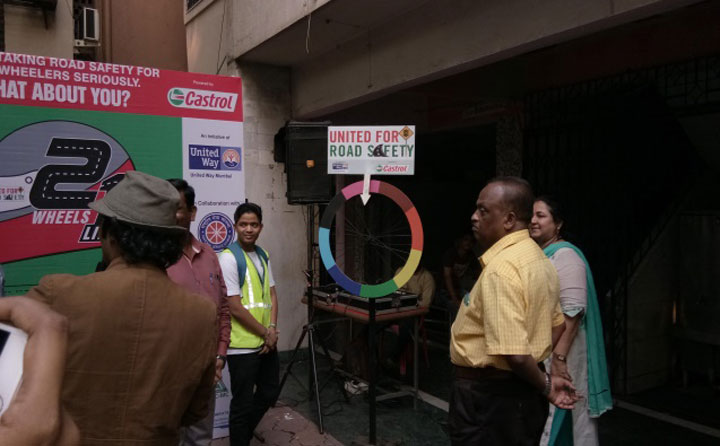 The volunteers were encouraging students to participate in chaos and making them understand how safety precautions can be taken while riding. Students, teaching and non teaching staff were motivated by these chaos and they took pledge for safety riding.
Two Wheels on Life Intercollegiate Competition
Date: 1st and 7th February, 2018
Venue: NES Ratnam College, Bhandup and Khalsa College, Matunga
In everyday news we see that there is one news on bike or car accident. Today's young generation are not concerned about safety riding they keep competition among them while riding. United Way Mumbai is working with NSS Unit of various colleges affiliated to University of Mumbai to create awareness about road safety among riders. Every year United Way Mumbai concludes their awareness campaign by arranging intercollegiate competition for college students on the theme of Two Wheel One Life.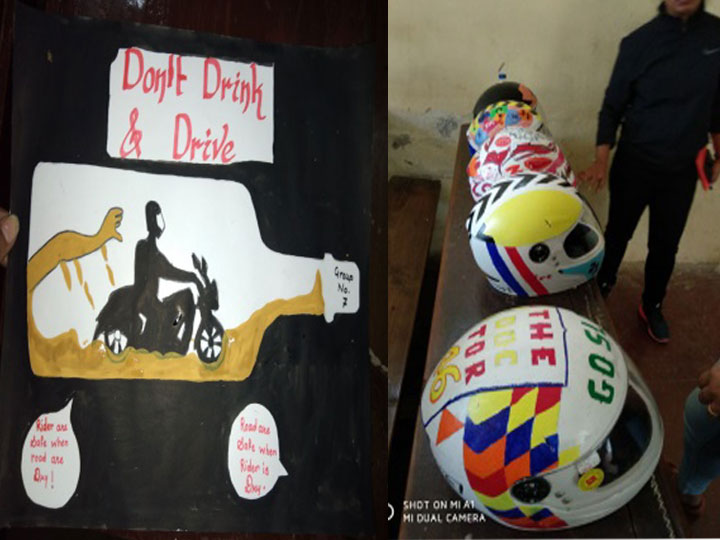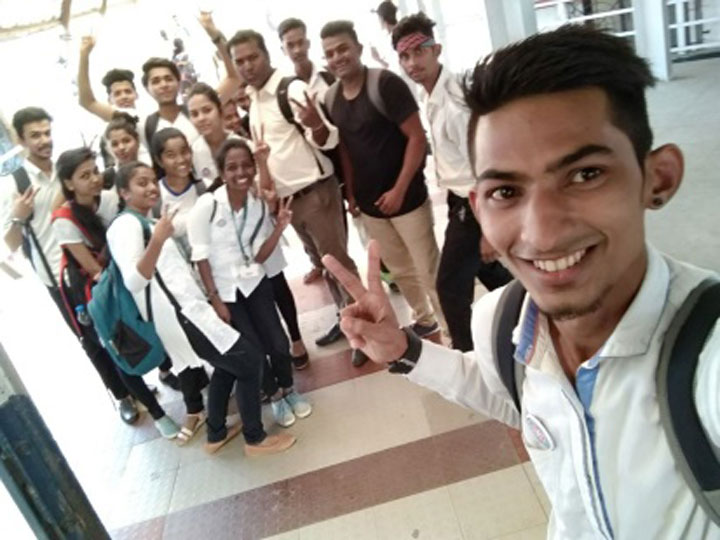 This is year also our students participated in this mega event organized by United Way Mumbai. The elimination round was conducted at NES Ratnam College, Bhandup on 1st February, 2018. From Eastern Zone more than 20 colleges participated in the various events like poster making, helmet designing, short film making, pledge wall writing, safety club activity, street play, dance etc.
Our college got first prize in Poster making and second prize in Helmet Designing. They took PowerPoint presentations of Pledge Wall Writing and Best Safety Club activity for scrutiny. Both our pledge wall and safety club activity presentations were got selected for final round.
They announced finalist to come for final round on 7th February, 2018 at Khalasa College, Matunga.
Our students reported at Khalsa College, Matunga on 7th February, 2018 for final round for poster making, helmet designing event. Two of our volunteers had given presentations on Pledge wall writing and Best Road Safety Activity. Event organizers invited all finalists for Prize Distribution Ceremony on 9th February, 2018 at ISME Auditorium, Lower Parel.
Valedictory Function of Intercollegiate Competitions
Date: 9th February, 2018
Venue: ISME, Auditorium, Lower Parel
The United Way Mumbai organized valedictory function of Intercollegiate Competitions conducted on road safety on 9th February, 2018. The guests for the day were Joint Commissioner of Police (Traffic), Mumbai Mr. Amitesh Kumar (IPS), Ms. Pillai from Castrol, Prof. Bidve (NSS Cell University of Mumbai), Ms. Jayanti Shukla (CEO, UWM) and Ms. Indu Sahani (President, UWM).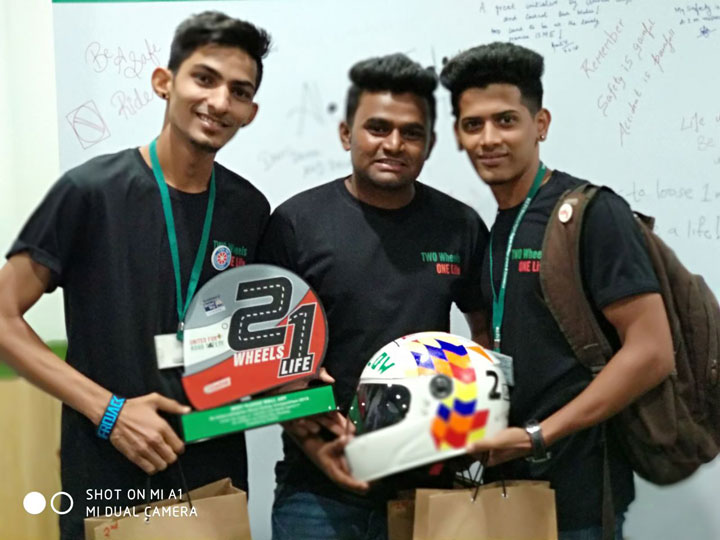 Ms. JayantiShukla (CEO, UWM) welcomed Mr. Amitesh Kumar and felicitated him with giving bouquet and requested Amitesh sir to the addressed gathering. The young dynamic IPS officer addressed gathering with his own spontaneous words and captured attention of audience toward him. He highlighted current issues of road accidents and he also mentioned police force required helpful hands of this young generation to overcome this road accident problems. He assured that for road safety campaign or any other help regarding training of road safety our police force will be made available for your help.
After informative speech of Mr. Amitesh Kumar (IPS officer), Ms. Indu Sahani (President, UWM) addressed gathering about road safety campaign and she talked about students of ISME died in road accidents. She congratulated all winners in her speech. Prof. Bidve sir also talked about road safety measures and how it is important for riders while riding bike.
After these formal speeches, prize distribution ceremony was started. Around 50 colleges were present for this function from City, Eastern and Western Zone. Our college stood second in helmet designing event and students were given safety gloves and Fugi film camera as a token of appreciation.
Among the entire three zones our college was awarded for "Best Pledge Wall Writing". More than 200 colleges participated in the pledge wall writing event and our college got this award it was memorable and proud moment for all Mahatmaites.
NSS Special Residential Camp
NSS Unit of Mahatma Night Degree College organized its seven days special residential camp at Mulgaon Village, Badlapur. This was the second year of our camp in this village. In the first year we had undertaken the work of School Walls Painting but this our we had undertaken a major project of Toilet Block Construction in the school premises. Further, it was understood with the pilot survey and last year's Swatch Bharat Mission in the village that mere cleaning of the village is not sufficient but awareness has to be created among the villagers. In order to serve this purpose, we decided to install sign boards with the social slogans in the village.
The above objectives had major financial burden on the NSS unit which NSS funds were unable to support. Thus to support this, we started to take voluntary contributions from teachers and college students. It is only because of their support that we started the construction of Toilet block in the school from 15th of January, 3days prior to the camp commencement date. A special team of 15 NSS volunteers were made to just to toilet block construction purpose. In the school premises initially there were only 3 toilets block were there. 1 block for boys and 2 for girls were there. Our target was to build 2 more toilet blocks 1 for boys and 1 for girls. The toilet block construction team started visiting the camp site from 15th morning. They used to come to camp site early mornings as per the instruction of the skilled hired Mistry for the work and came back in the evening. It took 9 days of hard work and dedication to complete the toilet block construction work.
Day 1 18th January: We started at 9 a.m. with 94 NSS Volunteers and NSS Program Officers Asst. Prof. Harsh Shukla and Asst. Prof. Tushar Pawar from the college as our Principal Dr. Padma Rangan waved the flag for our departure. First instructions were given to the students about dos and don'ts in the campsite. We broke the coconut before our departure in front of the bus. Then we left for our camp site. It took 2 hours to reach the camp site. Students were instructed to bring the Tiffin for afternoon lunch. After reaching the campsite students were allotted their respective rooms. Some students were sent to bring kitchen utensils and other stuff for kitchen. In the meanwhile Kitchen grocery also came from the Patel R Mart, Badlapur. After the lunch, we divided the students into different six committees. Instructions were given about their committee work. Toilet construction team were engrossed in their work and activity committee member were asked to help them in addition. At 4 p.m. we called our resource person from village Shri Hanumant Bhoir sir and cook Eknath Bhandare along with school teachers and flag hoisting ceremony for the camp was done. University Head of NSS Prof. Baba Saheb Bhidve came for surprise visit in the campsite. He took half hour session and briefed the students about NSS work they have to do in the village. Day 1 was full of adjustment with the campsite and we spent time to understand the premises and work challenges. After dinner at 9 p.m., post dinner briefing was done and everybody slept at 10.30 p.m.
Day 2 19th January: Every one woke up at 5 a.m. in the morning. After the headcount and prayers, they were given 1 hour to fresh up. At 6.30 everyone gathered for morning exercise except kitchen committee. The task of kitchen committee was to make arrangement for the tea and breakfast. Boys were asked to go to village ground for running while girls did the warm up in the school premises. After warm up and exercise, tea and breakfast was served to the students. Subsequently, groups were made and they were sent to different places for Swatchh Bharat Abhiyan. In the meanwhile Kitchen committee was busy in their work. Toilet construction committees were busy in their work. Rest of the group did the shram daan and came back at 12 p.m. After the shram daan they went for bath and lunch was served at 1 p.m. After lunch afternoon session was taken by NSS PO Tushar Pawar. Then students were given time for their street play and entertainment preparation. At 5 p.m. tea was served. At 6 p.m. toilet committee completed their work for the day. All committees were busy in their work. 8 p.m. dinner was served. After dinner street play and entertainment committee showed their performance. At the end of the review meeting report writing committee gave the report for the 1st day.
Day 3 20th January: Every one woke up at 5 a.m. After prayers and freshen up program students went for warm up and exercise. After that tea and breakfast was served. After that students in different group went for swatch bharat abhiyan and they shouted the slogan of swatch bharat sundar bharat, swachhta he seva hai slogans. Toilet committee along with activity committee members helped in the toilet construction work. In the afternoon after shramdhan students went for bath which is followed by the lunch. 2 hours were given to the students for street play and entertainment preparation work. In the post Tea session one resource person Mr. Kohli came for andhashradhha nirmulan lecture. Our principal Dr. Padma Rangan also came for surprise visit in the evening. The session continued for 2 hours. The kitchen committee was busy in the dinner preparation and it was served at 8 p.m. Principal Dr. Padma Rangan was very happy by observing the hard work and passion of the students. Madam left at 8.30 p.m. after the dinner. Review meeting was kept at 9 p.m. After the review meeting street play and entertainment committee performed their plays. Report writing committee gave their report. 10.30 everyone slept.
Day 4 21st January: Usual routine remained as it is. Post breakfast student went for the shram dhaan and toilet committee started their work. In the afternoon resource person Reporter Rupesh Dubey came for session on social media. He tool the session for two hours. He explained the different avenues available for students in the media world. Dr. Lata Krishnan joined the camp on this day. After the session tea was served. Students prepared their sreet plays and acts. in the evening kabbadi match was played between first year and third year boys. In the post dinner session was done and everyone slept at 10.30 p.m.
Day 5: Day begin with 5 a.m. morning prayers followed by exercise and yoga. A friendly match of 4 over's played in the village ground. In the post breakfast session students cleaned the school premises and Raw sign boards were brought from the villages. Group was formed to write swatchhta slogans on the sign boards. Accordingly colors were brought for the same. Toilet work went on as it is. In the morning we at 10.30 p.m. a group of students along with Tushar pawar sir Dr. Lata Krishnan visited near by candy factory and learned about rural entrepreurship. In the post lunch session, Volunteers from TISS came and took 2 hours session on gender equality. In the evening students along with Dr. Lata Krishnan and NSS PO Tushar Pawar sir went to Khanderaya Temple on the hill. All of them came back at 7 p.m. Subsequently street play and entertainment committee went for their preparation. Dinner was served at 8.30 p.m. post dinner session was held and everyone went for sleep at 11 p.m.
Day 6: In the morning everyone woke up at 5 a.m. In the post break fast session students went for shramdaan and toilet committee completed their work today. Post lunch session students were given little break for one hour and at 3.30 a group of students along with NSS PO Harsh Shukla and Dr. Lata Krishnan visited Ashtaang Yoga Ashram. We came back at 6 p.m. This year we kept a special session on astrophysics and resource person came at 6 p.m. Session started at 6.30 and went on for 1 hour. After the session resource person showed them moon and other stars with the help of telescope. Dinner was served at 9 p.m. After post dinner session we went for sleep at 10.30 p.m.
Day 7: We woke up at 5 a.m. After regular routine and breakfast we installed the sign board at pre decided places of the village. A group of student in the NSS dress code went to village along with Dr. Lata Krishnan. They distributed chocolates to the villagers and asked them to keep the village neat and clean. After the lunch valedictory function was started. Students were given prizes for their effective work. The villagers and the school staff was very much impressed by the hard work and dedication of the students for toilet construction. At 5 p.m. we bid adieu to everyone and left for chembur.
MDACS Valedictory Function
The NSS students of Mahatma Night Degree College of Arts and Commerce were felicitated on 16th January, 2018 at MDACS (Mumbai District Aids Control Society) for their contribution during the Aids Awareness week (1st – 7th December, 2017). A total of 12 NSS volunteers performed skits and street plays in and around Kurla and Chembur areas to spread the message of the dangers of AIDS. Prithesh Sawant, Tikamchand Fulwaria, Harshada Surve and Kamal Shigwan attended the valedictory function where they were felicitated with a trophy and awarded certificates of participation. Principal Dr. Padma Rangan and NSS Program Officer Asst. Prof. Tushar Pawar congratulated the students on their achievement.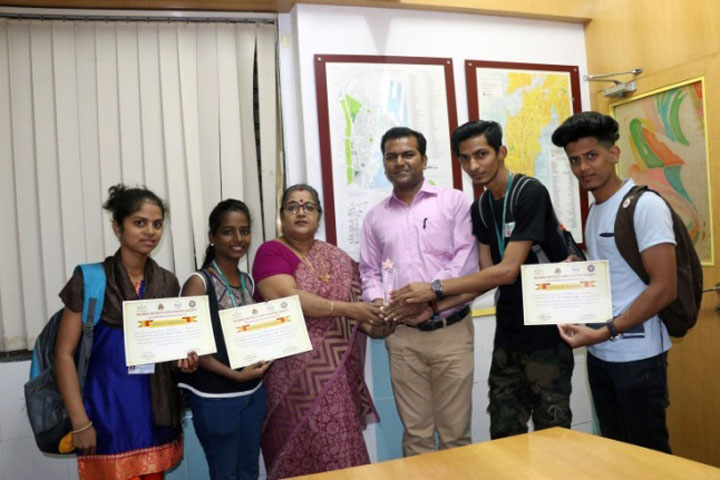 Run for Unity by Youth
On the occasion of Birth Anniversary of Sardar Vallabhbhai Patel on 31st October, 2017 Ministry of Youth and Affairs and Sports, Government of India decided to celebrate as Ekta Diwas.
In order to foster and reinforce our dedication to preserve and strength unity, integrity and security of our nation, NSS cell of University of Mumbai has organized Rally Run for Unity by Youth.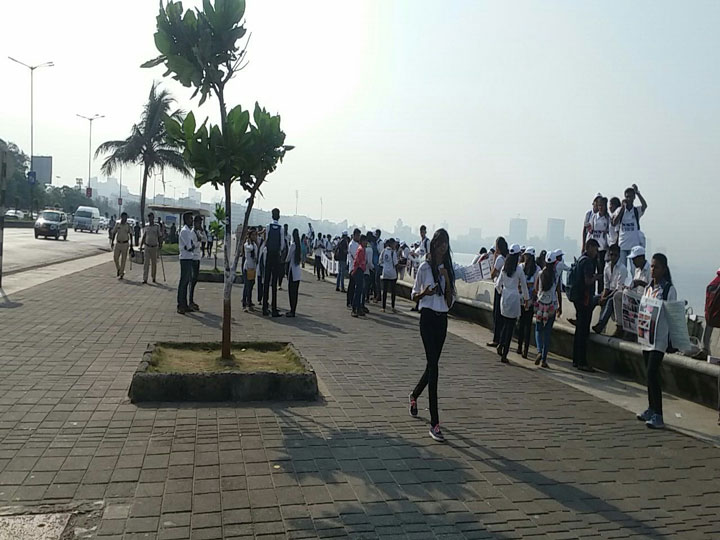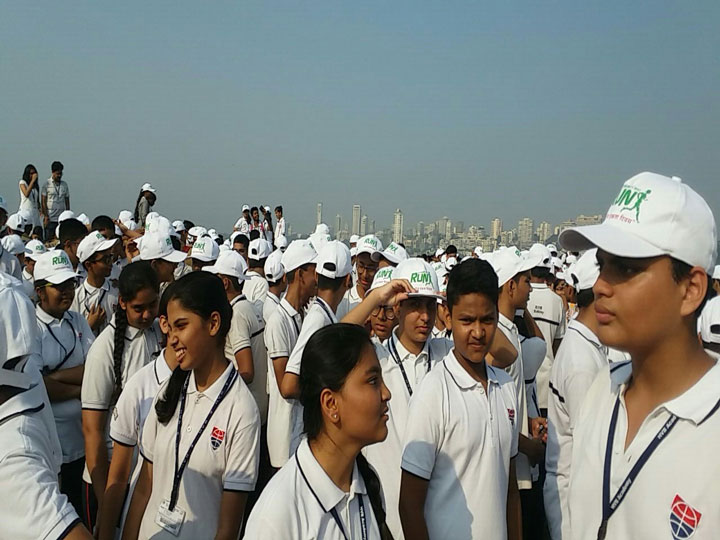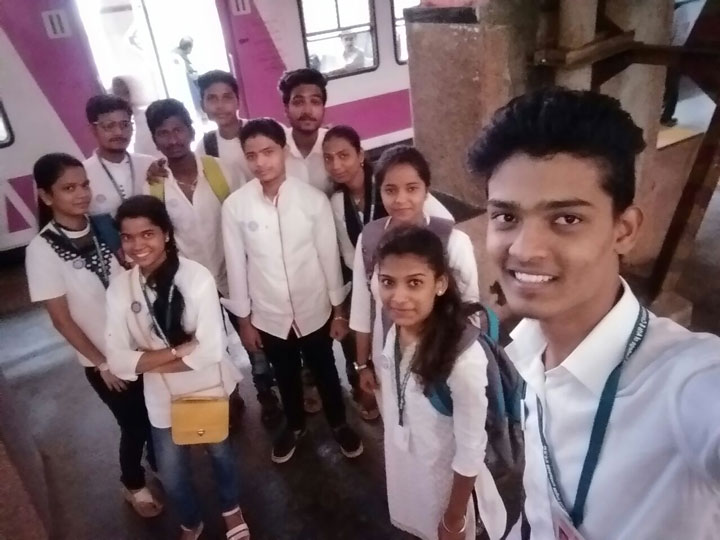 In this program 10 NSS volunteers of First Year and Second Year B.Com. from our Mahatma Night Degree College were participated. Name of the volunteers are
Nandkishor Chauhan
Prathmesh Rane
Preetesh Sawant
Kamal Shigwan
Gazala Sheikh
Sharda Singh
Harshada Surve
Manohar Singhadiya
Tikamchan Fulwariya
Jaspal Singh
Run for Unity by Youth Rally started at 7.30 a.m. from Nariman Point, Mumbai towards Marine Drive, Mumbai. During Rally volunteers were spreading messages of integration and holding plug cards showing messages of national integrity and unity. This program was concluded at Marine lines at 10.30 a.m. by Enlighting speech of Prof. B. S. Bidve, NSS Coordinator NSS Cell University of Mumbai, on Ekta Diwas and National Anthem.
Blood Donation Camp
NSS unit of Mahatma Night Degree College of Arts and Commerce organized a Blood Donation Camp on 14th October, 2017. This Blood Donation Camp was organized with the help of Think Foundation. J. J. Mahanagar Blood Bank was called for the camp. The camp timing was from 2 p.m. to 8 p.m. The camp was great success and 68 units of blood bottles were collected. Asst. Prof. Harsh Shukla and Asst. Prof. Tushar Pawar accepted a trophy given by J. J. Mahanagar Blood Bank as a token of appreciation to Mahatma Night Degree College.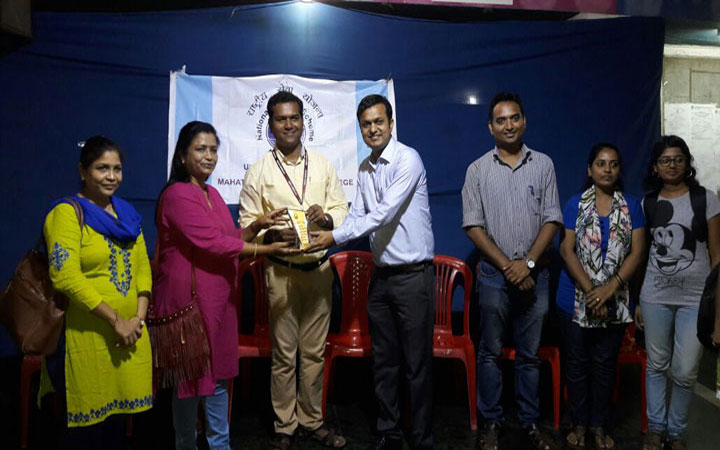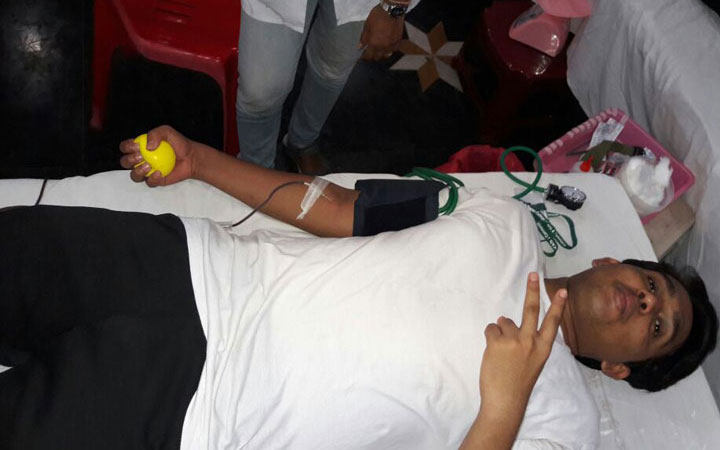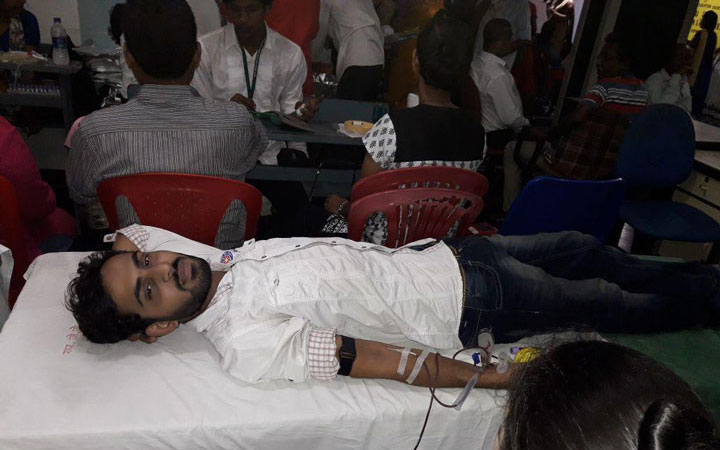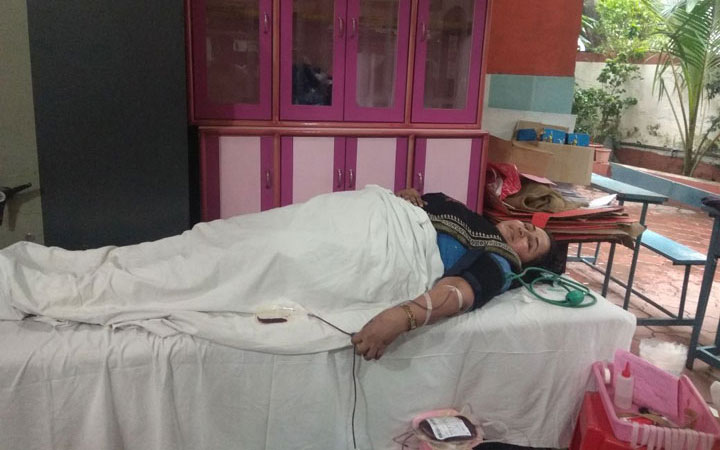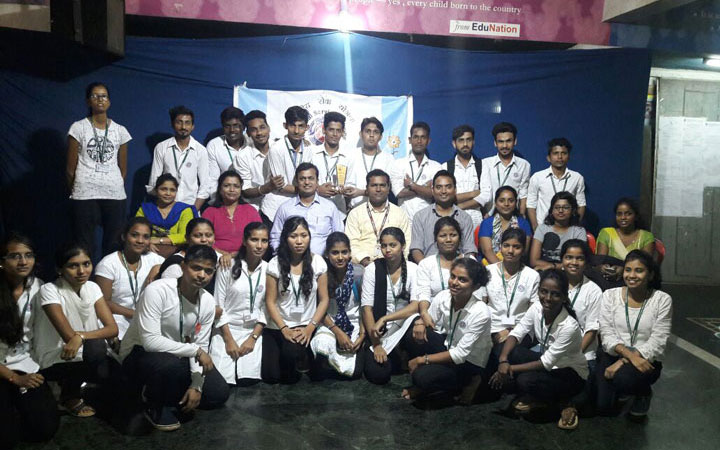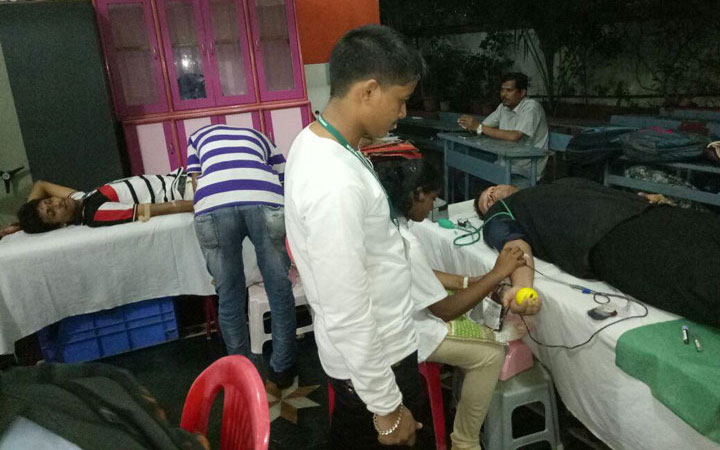 Dengue Malaria Awareness Drive
NSS Unit of Mahatma Night Degree College organized a Dengue Malaria Awareness Drive in the adopted slum area Sidhharth Colony on the 27th September, 2017. The rally was attended by 125 volunteers along with NSS program officer Asst. Prof. Harsh Shukla. The awareness drive started at 4 p.m. from the college premises. NSS volunteers were holding the banner and posters displaying different messages on Swatchh Bharat, importance of cleanliness to fight with dengue malaria. NSS volunteers were shounting the slogs of "Swachhta He Seva Hai" and "Safai Lao Dengue Bhagao" in order to bring slum dwellers out from their houses. Volunteers interacted with people and explained them how cleanliness helps to fight with dengue malaria disease. Rally covered 3 km distance and came back to college at 5 p.m. refreshments were served to the students at the end of the program.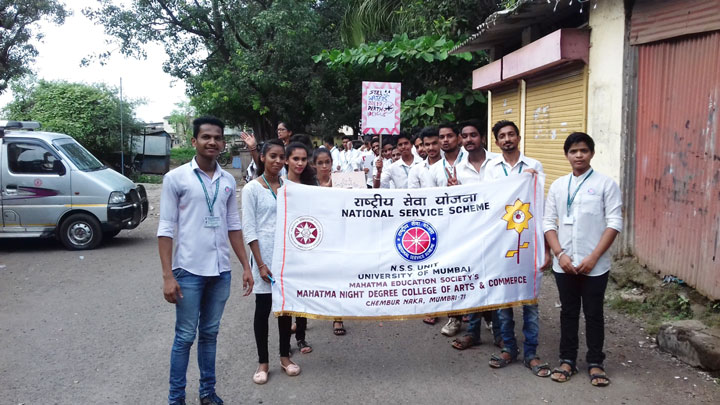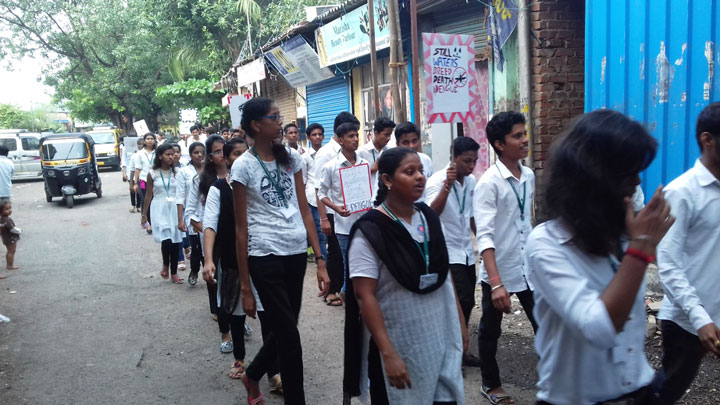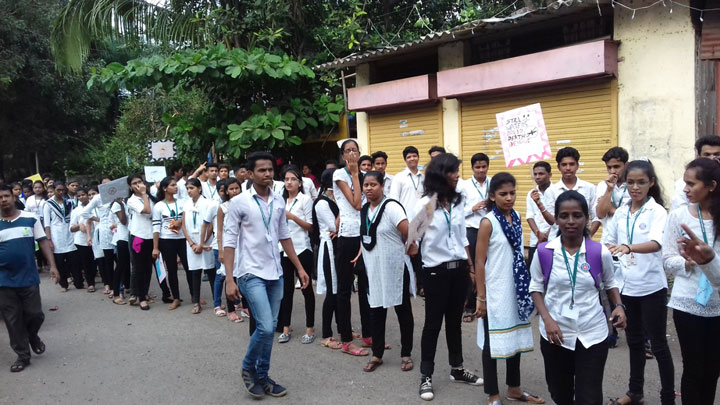 Ravikant Mourya selected for Pre SRD NRD Camp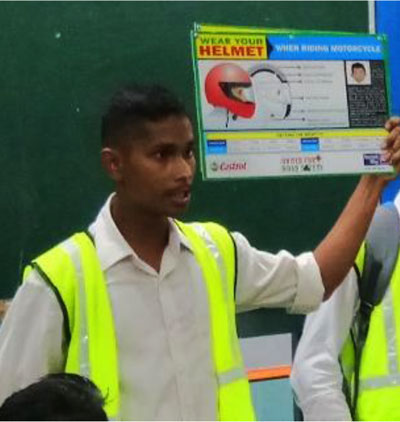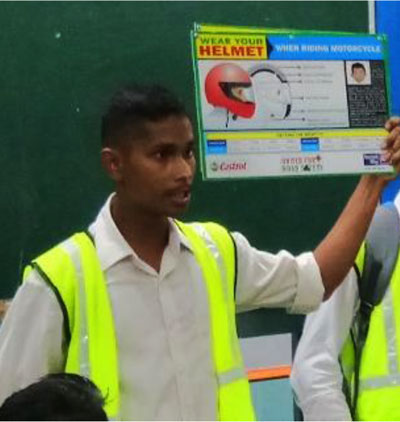 MNDC's NSS volunteer of S.Y.B.Com., Ravikant Mourya is selected for the pre SRD NRD Camp.
Ravikant Mourya is selected from the Mumbai Central Suburban district comprising of over 50 colleges. On 8th September, 2017 he will be going to Solapur University to participate in the rigorous pre SRD NRD training camp.
Congratulations Ravikant Mourya!