Social Scientific Temper
Being the first in the Workshop series of Campus Yuva, after a brief introduction, students were made aware of the consequences of spreading news through a Role play and the dangers of fake news. They were made to think critically and analyse through tests if any piece of information was received or even when connecting to everyday life.
That it is our fundamental duty to develop social scientific temper and a spirit of inquiry and reform formed the conclusion of the workshop.
International Day of Yoga 2019
Mahatma Night Degree College of Commerce, Chembur participated in the programme 'Yoga by the Bay' to celebrate International Day of Yoga 2019.
Yoga by the Bay
It is the second time in a row that our college is participating in this mega Yoga event, a joint initiative of the NGO 'I Love Mumbai' and holistic health guru Mickey Mehta, supported by the Times of India.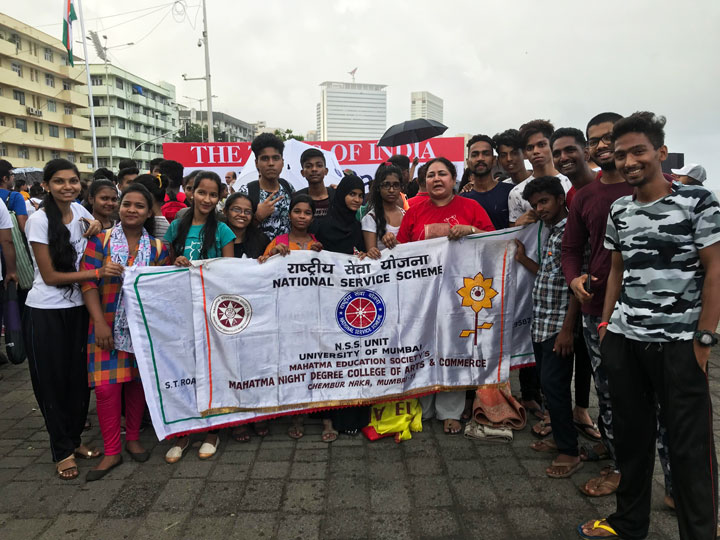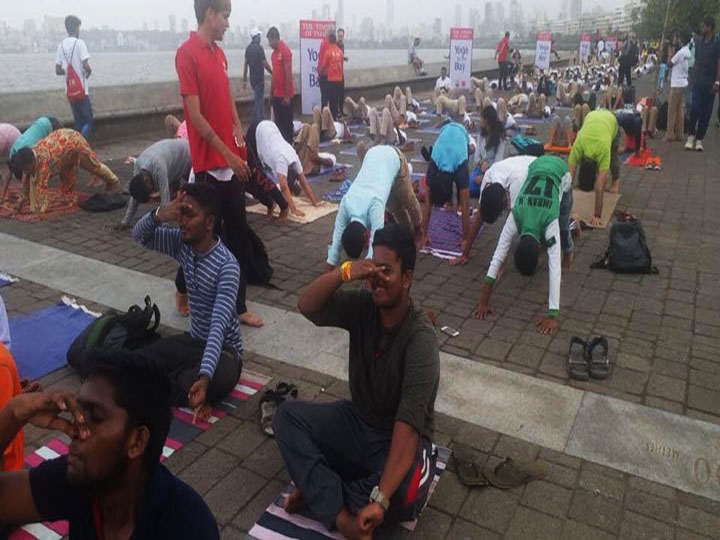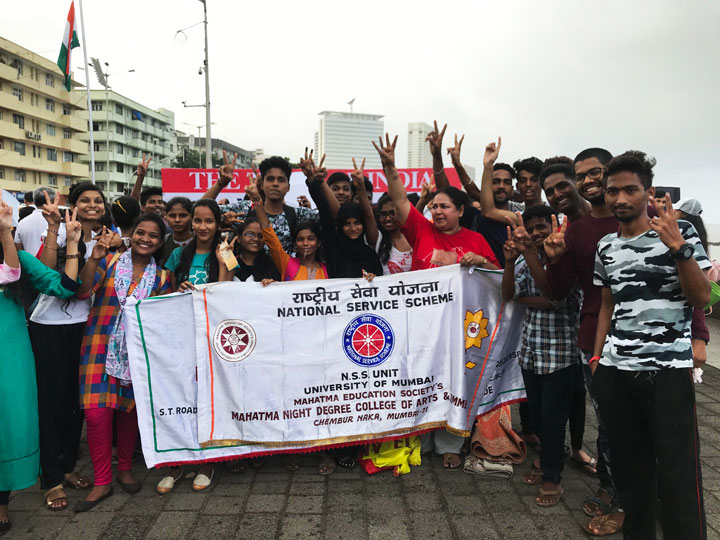 Mahatma Night College students got an opportunity to decorate the Marine Drive of Mumbai with a necklace of people doing Yoga and Meditation. All roads led to Marine Drive to celebrate the fifth anniversary of Yoga bythe Bay. The event gave us an opportunity to practice yoga in the rejuvenating breeze of the waterfront at Marine Drive. The session was open to all. Participants needed to carry their own yoga mats and rainwear. There were no entry tickets for this programme.
MNDC students set off for 'Yoga by the Bay'…
The young yoga enthusiasts, 73 students of Mahatma Night Junior and Degree College of Arts and Commerce particularly standard XI, NSS National Service Scheme volunteers and non-volunteers of S.Y.B.Com. and T.Y.B.Com. were picked up by special buses arranged for them from the Chembur college campus in the wee hours of the morning of 21st June, 2019. Attendance was taken at 5.00 a.m. and the students reached Marine Drive, Veer Nariman road promenade at 6.00 a.m. Dr. Lata Krishnan the yoga teacher of the college, H.O.D. Commerce and Associate Professor was joined by Dr. Nivedita Shreyans, PRO Public Relations Officer of Pillai Group of Institutions to accompany the students to the event. The event started at 6.00 after a brief introduction by host and yoga instructor followed by prayer and yogasanas till 8.00 a.m. The CYP Common Yoga Protocol was followed and the students performed the yogasanas confidently and cheerfully. The participants for the programme Yoga by the Bay were students from schools and colleges in and around Mumbai, the Police force, the Indian Navy, and Yoga enthusiasts from the neighbourhood.
Tasty breakfast boxes were distributed among the students post the event and they were dropped back to the college by 9.00 a.m.