Book Exhibition
N-list Notice
Notice
Learning Resource Centre
Book Exhibition 2022-23
Date
: Wednesday, 29th June, 2022
Time
: 4:30 p.m.to 7:30 p.m.
Venue
: 5th Floor Library
Introduction
Mahatma Education Society, Mahatma Night Degree College of Arts and Commerce organized a book exhibition event for one day. The aim of this Exhibition was to accelerate the interest of reading various types of Books.
Activity
Mahatma Night Degree College of Arts and Commerce organized this book exhibition on 29th June, 2022 Wednesday between 4:30 to 7:30 p.m. The book exhibition event was inaugurated by The Dr. Eaknath Zhrekar, I/C Principal of Mahatma Night Degree College of Arts and Commerce, Chembur. It was well managed by the librarians Parveen Arif, Jayshree Venugopal and other staff members of the College who helped in their own special way. The event was graced by the presence of Professors and students of Night Junior and Degree College. The books were exhibited by M/s Venus Books and M/s Sai Books Distributors. The books were arranged in a very attractive and pleasant manner. There were various books on different topics displayed in this exhibition viz; Biographical Books of Great Indian Leaders, Education and Covid-19, Management and Entrepreneurship Books, Books of Communication and Development Skills, Books on Information and Technology, Competitive Exam Books of Banking, NET, SET etc. It was a pleasant experience for all who came to this exhibition.
Beneficiaries
Teachers and students from Mahatma Night Degree College and Mahatma Night Junior College participated and benefitted from this exhibition. (Approx. 250+).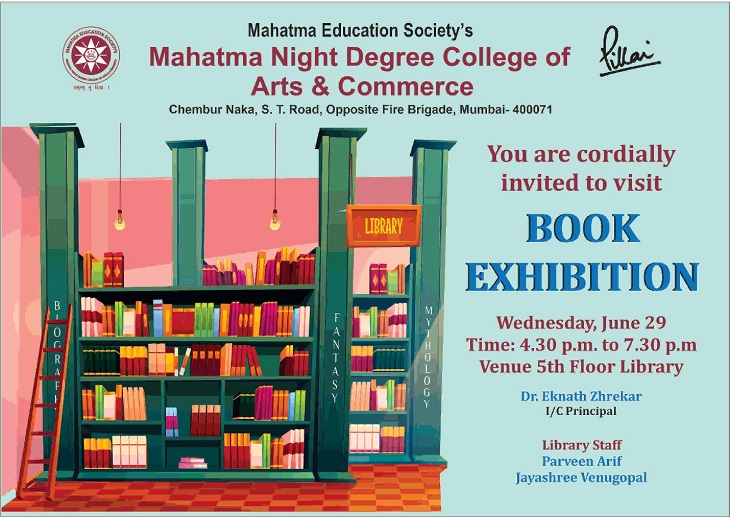 Learning Resource Centre – Library
The college has a state–of–the art central library which can seat 100 students at a time, on the fifth floor of the college building. The library is fully equipped with sufficient number of books for issuing as well as a good number of reference books. The college library follows an open access system. The library regularly subscribes to all the latest journals / periodicals / magazines / leading newspapers. Internet facility to all students / staff members for preparation of projects / research material is available at the central library. There is a lift provided in the college building to facilitate access to the library on the fifth floor.